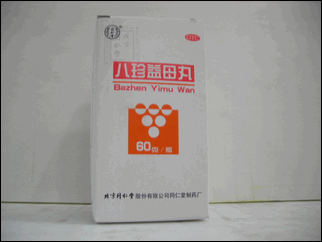 $2.95
Chinese name:
Bazhen Yimu Wan, Ba Zhen Wan, eight treasure pills
Ingredients:
Honey, Herba Leonuri, Preapared Rehmannia Root, Chinese Angelica Root, Pilose Asiabell Root, White Atractylodes Rhizome, Tuckahoe, White Peony Root, Chuanxiong Rhizome, Licorice Root
Indications:
Bazhen Yimu Wan is used specially for women who are deficient of blood and qi with weakness and irregular menstruation. In China it is often prescribed for irregular menstruation, painful menstruation, light bleeding after abortion, etc.
Functions:
Nourish blood, tonify qi, adjust menses, nourish fertility, used for scanty menstruation, dysmenorrhea ,inability to conceive, habitual miscarriage, post-partum recovery
Dosage:
take 60 pills each time, 2 times a day, contains 60g (600 pills)
Manufacturer:
Beijing Tongrentang
Description:
Ba Zhen Yi Mu Wan (Restorex Plus Extract) is a classical formula of TCM for women with irregular menstruation, red and white vaginal discharge due to deficiency in blood and qi. This formula has been practically used for over 450 years. The formula Bazhen Yimu Wan can be traced back to the ancient medical book "Collected Treatises of Jing-Yue", by Zhang Jing-Yue (1563~1640) in Ming Dynasty.
It supplements qi and nourishes blood. It is used to treat gynecological disorders with qi and blood depletion, often the result of blood loss. Guiding symptoms include fatigue, pale face, dizziness, vertigo, shortness of breath, with irregular menstruation, and general pre- or post-partum depletion, including fatigue with low-grade fever not attributable to infection.
Bazhen Yimu Wan is also effective in the treatment of qi and blood depletion due to spleen depletion, with such symptoms as fatigue, pale face, weight loss, dizziness, poor appetite, palpitations, and low-grade fever with uneasiness due to exhaustion. With these symptom patterns, Bazhen Yimu Wan may be used in cases of anemia, hypoglycemia, and optic atrophy. Finally, it is used to treat stubborn un-healed skin ulcers, with the area around the ulcer flat, not re or swollen.
This is the page of Chinese medicine for women, you can buy Bazhen Yimu Wan online here.