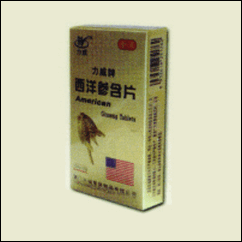 $5.95
Chinese name:
Renshen Pian, Ginseng Tablets, American Ginseng
Ingredients:
Panax quinquefolius L.
Functions:
Ginseng tablets increase physical stamina, and stimulate the appetite. American Ginseng has an anti-clotting action that may reduce the risk of heart attacks. Also, it reduces the effects of stress; boosts energy levels & assists with mental and body fatigue.
Dosage:
3 times a day, 1 tablet per time, contains 12 tablets.
Manufacturer:
Xiamen Yongfuxing
Description:
Ginseng has been used as general tonic for thousands of years in Asia and becomes a popular herbal medicine all over the world. American Ginseng Tablets is used to reduce the effects of stress, improve performance, boost energy levels, enhance memory, and stimulate the immune system.

American Ginseng Tablets helps to maintain excellent body functions.
Heat-processed Asian ginseng roots (Panax ginseng C.A. Meyer), also known as "red ginseng" in Asia, are reported to have more bioactivity than the no-processed white ginseng roots. Therefore, American fresh ginseng roots (Panax quinquefolius L.) were processed to the red ginseng and examined changes in bioactivity during heating process. The fresh America ginseng tablets were steamed at 100 °C for 30, 60, 90 and 120 min, and their bioactivities were examined by analyzing the content of ginsenosides and total phenolics, and measuring DPPH and superoxide radical scavenging acivity and their protective effects on V79-4 cells viability and lipid peroxidation. The heating treatment proportionally increased total ginsenosides (4.97%, w/w) content compared with white ginseng (3.27%) and total phenolics from 444.5 mg GAE/100 g to 489.6–574.2 mg GAE/100 g. The antioxidant activity also increased from 285 mg/100 g (vitamin C equivalent) to 353–487 mg/100 g. Heated ginseng showed high levels of DPPH radical scavenging activity (59.5–88.5%) and the high level of superoxide radical scavenging activity (44.2–90.9%). The heated ginseng protected cell viability against H2O2-induced oxidative damage, and enhanced the activities of superoxide dismutase and catalase by dose dependently in V79-4 cells.
Keywords: American ginseng tablets (Panax quinquefolius L.); Heated; Ginsenosides; Total phenolic contents; Antioxidant capacity; SOD; CAT; V79-4 cells
Abbreviations: ARG, American red ginseng; AAPH, 2,2α-azobis(2-amidinopropane) dihydrochloride; ABTS, 2,2α-azinobis(3-ethylbenzothiazoline-6-sulfonic acid); VCEAC, vitamin C equivalent antioxidant capacity; GAE, gallic acid equivalents.
However, the cellular and molecular mechanisms of Ginseng tablets underlying its benefit effects are less explored. Thus, we investigated the effect of a crude extract from Panax quinquefolius (American ginseng tablets) on suppression of pro-inflammatory responses in macrophages with a focus on signal transducer and activator of transcription (STAT) signaling.
The crude extract of American ginseng tablets that was supplied by the National Research Council of Canada, Institute for National Measurement Standards (NRCC-INMS) was freshly solvated in Dulbecco's Modified Eagle Medium (DMEM) prior to each experiment. RAW264.7 cells, a murine macrophage cell line, were exposed to lipopolysaccharide (LPS) to induce inflammatory responses such as expression of inducible nitric oxide synthase (iNOS) and cyclooxygenase 2 (COX2). Proteins were measured by Western blot and mRNA expression was determined by quantitative real-time PCR (Q-PCR). Activator protein 1 (AP-1)-, nuclear factor-κB (NF-κB)- and STAT-mediated transcriptional activities were investigated using luciferase reporter constructs.
American ginseng tablets inhibited LPS-induced iNOS expression; however, it did not affect LPS-induced COX2 expression. While American ginseng had no impact on LPS-induced activation of AP-1 or NF-κB pathways, it dramatically inhibited LPS-induced activation of STAT signaling. Moreover, American ginseng and AG490, an inhibitor of STAT cascade, synergistically suppressed the LPS-induced iNOS expression.
Conclusion
American ginseng tablets selectively inhibits the expression of iNOS via suppression of STAT cascade but not NF-κB and AP-1 pathways in inflamed macrophages. Such a preferential suppression of STAT/iNOS cascade by American ginseng might have therapeutic potential for inflammatory diseases with over-activation of iNOS.
Keywords: Panax quinquefolius; American ginseng tablets; STAT; Macrophages; Inflammation; iNOS; COX2
This is the page of Chinese medicine Ginseng Tablets, you can buy Ginseng Tablets online here.