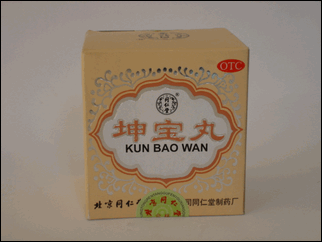 $7.95
Chinese name:
Kunbao Wan
Ingredients:
Peony (White), Lycium Root Bark, Poria, Lycium Fruit ,Oryza (Sprouted) ,Polygonatum (Siberian Solomon Seal) ,Scutellaria , Chrysanthemum ,Dragon Bone (Fossil) ,Moutan ,Oyster Shell
Functions:
Regulates hormones levels and balances, stops insomnia, restlessness, nourishes your yin part to regain the Yin-Yang balance. Promotes blood circulation to maintain a normal metabolism. Relief stress, irritability, frightening, severe palpitation insomnia, dreaminess and amnesia.
Dosage:
1 sachet a time, twice daily, after meal. Size: 5g X 10sachets
Manufacturer:
Beijing Tongrentang
Description:
Kun Bao Wan provides an amazingly fast and effective herbal relief for menopause symptoms. The 100% herbal natural menopause treatment has shown fantastic results in 2-4 weeks.

Modern medicine often fails to successfully treat the symptoms or does so at a high risk to the patient, so many women are turning to more traditional methods. Kun Bao Wan is one of those traditional methods.
It is based on traditional Chinese formulas and has been modified for further effectiveness by famous Beijing-based TCM doctors.
Tested in three famous hospitals such as Beijing Tong Ren Hospital and Beijing TCM
Hospital, tested on 330 patients of "Liver and Kidney-Yin Deficiency" type of
menopause syndromes, the positive effective rate was on 320 patients, only 10 patients has no effects at all.
This product has been used by many TCM Doctors in Canada and USA since early 2005.
Kunbao Wan can significantly reduce the symptoms of menopause syndromes, combination use of "Kun Bao Wan" and "Jia Wei Xiao Yao Wan" can significantly calm down the depression due to menopause.